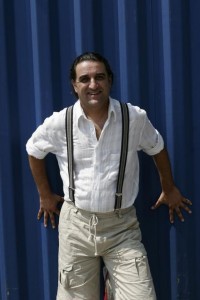 Αν ειστε κουλτουριαρης φυγετε αμεσως! Το περιεχομενο της σελιδας μπορει να σας ενοχλησει!
Welcome to my website. This page is full of memories & dedicated to my friends and especially to all my listeners who through out the years have trusted my taste in music. The ones I have met, the ones I have spoken to on the phone and the ones I have never seen before.
This site was built to remind us of the good old days of radio in Thessaloniki and the people that made it happen.The feeling of sharing music with others was and still remains the real reason i started out this hobby that would become my job later. From the 70's using audio cassettes and then to "Vinyl Records"and later to cd's. Today a radio broadcast takes place using a mouse!
I illegally placed an antenna on my balcony in 1979 at the age of 15 using a transmitter with a 9V battery!When I first went "on air" my signal was so weak that only my neighbours could recieve it!This is my story and how I started broadcasting on Thessaloniki's airwaves! The whole story…
Tweets by @katanakis

Ταξιδεψτε στο χρονο κανοντας κλικ παρακατω:
ΤΕΛΕΥΤΑΙΑ ΕΚΠΟΜΠΗ ΣΤΟΝ Α103
The IBC Years
ΤΑ ΧΡΟΝΙΑ ΤΟΥ ΜΟΥΣΙΚΟΥ ΔΙΑΥΛΟΥ
ΜΟΥΣΙΚΟΣ ΔΙΑΥΛΟΣ SPOTS
Zbutsam Radio Spots
Α103 SPOTS
The A103 Years
Mousikos Diavlos Last Show 13/8/1988
ΤΕΛΕΥΤΑΙΑ ΕΚΠΟΜΠΗ IBC
HIT FM
Rαντεβου στα Μουγγα
Various
ΟΙ ΠΕΙΡΑΤΕΣ
Γιωργος Αλεξιου, Γιωργος Μιχαλοπουλος& Νικος Κατανακης στο Top 20
Διαγωνισμος Τραγουδιου Α103
INTERVIEWS
ΔΙΑΦΗΜΙΣΕΙΣ
The RSO Years