Listen to me live weekdays 7-9 pm and Monday Nights 10-1 am on "Zbutsam Radio"
ΜΥ RADIO CAREER : 1979 "Radio International " a rare photo of one of my first broadcasts.The tiny thing on the table is the transmitter! I played music using audio cassettes.My microphone was the built in one of the Sanyo i have on my legs by pressing "play +record " at the same time! Ακουστε καμακι στον αερα καπου το 1981!>>>>
In
1982
After having trouble with police "Radio International" became "
IBC
" broadcasting to most parts of Thessaloniki daily and always taking a peek from my balcony to see if the police were trying to track down my signal!!Those days I had a show that would go on after school from 2-5 pm and sometimes after midnight..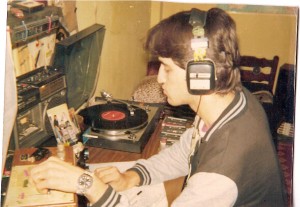 To
1984
η Πατριδα με καλει και πραγματοποιω αποχαιρετηστηρια εκπομπη.Η παραδοση ηθελε η συναδελφοι "πειρατες" να την αναμεταδιδουν.
ΑΚΟΥΣΤΕ … >>>>
1986
was a very important year.The first 24hour pirate radio station was launched:The legendary
"Mousikos Diavlos"
A rare photo of the legendary "pirate" radio station Mousikos Diavlos in 1987 Left to right:
Vasilis Themelis ,Kyrios Rykios,Nikos Terzoglou & Nick Katanakis
H ΤΕΛΕΥΤΑΙΑ ΕΚΠΟΜΠΗ >>>>
1988
was the year "free radio" came true and i started work at A103. Till then getting payed for what was our hobby was something we couldn't imagine not in our wildest dreams.This station was one of the first private stations to air.Midnight Express was one of the most popular night shows those years recieving hundreds of Letters each week.Soon the show will be named"Midnight Blue" playing the best love songs ever written.I left A103 IN 1994 and that
goodbye broadcast
was one of the most touching moments of my life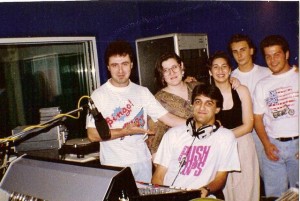 1995
I joined "Hit FM "
Unfortunantely the station closed down in less than a year
Listen 
1996
I Joined RSO for the first time…
Listen >>>>
1997
Back to A103 once again!
2000 I return to RSO  until

2008

!
2010
On Air again
Zbutsam Radio!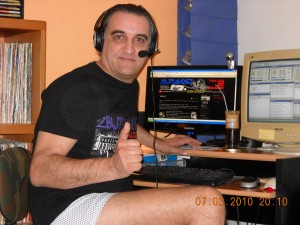 Τελικα που ειναι το ελευθερο ραδιοφωνο φιλοι μου?Ραδιοφωνο με playlist και στημενες ατακες?Οχι ευχαριστω δε θα παρουμε γιατι καποτε καναμε αγωνα να γλυτωσουμε απο τα κυνηγητα και συλληψεις.Γι'αυτο σημερα υπαρχει το
Zbutsam Radio!
για να θυμηθειτε πως ηταν καποτε οι εκπομπες!Και τωρα ο σταθμος πρωτοτυπει για αλλη μια φορα.Ψηφιοποιει παλιες εκπομπες απο το αρχειο μας και το υλικο που συγκεντρωσαμε απο τους ακροατες μας και τις μεταδιδει στον αερα οπως ακριβως ακουστηκαν τοτε!
ΚΑΤΕΒΑΣΤΕ SPOTS ΚΑΙ ΑΠΟΣΠΑΣΜΑΤΑ ΕΚΠΟΜΠΩΝ
ΚΑΤΕΒΑΣΤΕ ΤΑ SPOTS TOY ΠΡΩΙΝΟΥ ΦΡΙΚΑΣΕ